Don-min Ahn is a major character in the series and the strongest of the schools JJANG's.
Don-min Ahn
Info
Rank
JJANG
Grade
2nd Year
Class
Class 5
Sex
Male
Hair Color
Black
Eye Color
Black
Debut
Chapter 2
Personallity
Edit
Don-min Ahn is a very cheerful and upbeat character, although years before the start of the series he was a cold and ruthless fighter. He is respsected by all the JJANG's and treats them all as friends.
Appearance
Edit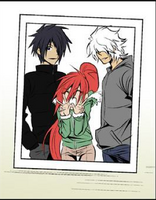 He
Kang Changwon
, and
Yung-hee Lee
have known each other for a long time. However it appears that him and Kang Changwon are no longer friends since he gets angry at the mention of Kang's name.
Ad blocker interference detected!
Wikia is a free-to-use site that makes money from advertising. We have a modified experience for viewers using ad blockers

Wikia is not accessible if you've made further modifications. Remove the custom ad blocker rule(s) and the page will load as expected.